On my way home from Lander, Wyoming, after a horrible start, so bad that I questioned the wisdom in flying out last week. My Southwest Airlines flight took off an hour and half late because someone got the emergency exit door stuck. My connection in Denver was a charter flight to Riverton, WY. Instructions were explicit. Pick up luggage from connecting flight, get to DenverAir ticket counter, check bag again (no later than one hour before departure), go through security, and be at gate no less than forty-five minutes before departure time. I had everything perfectly planned out, with a three-hour layover in Denver. With the hour and a half delay, I only had thirty minutes to do all of the above in Denver, no less! Do you know that airport? I was prepared to drive to Wyoming or fly back home. No more flights for the day to Riverton. On arrival in Denver, the passengers let me de-board first, the ticket counter called ahead to the charter, and I ran, like I haven't run since 4th grade.
Unfortunately, California sent her smoke east. I never saw the famous Wind River Mountain range. With all this misfortune, the week was incredibly productive. I absolutely love research, and I was not disappointed with what I found at the Fremont County Pioneer Museum, including a newspaper photo of Sarah's great-grandmother. The old jail register, beginning in 1885, also had surprises. Hank Boedeker, Butch Cassidy, and his sidekick Al Hainer were all three arrested within days of each other. Hank, arrested??? A district court arrest warrant, no less. Usually that was for selling liquor to the Indians or stealing horses. Yet, there he is again in 1894, this time deputy sheriff, escorting Butch to prison in Laramie. So many incredible finds, wonderful stories.
My hosts were members of the Boedeker family. Their ranch, atop a hill overlooking the Wind River Mountains, borders the North Fork of the Popo-Agie (po-po' zhə) River. Moose, grizzlies, elk, deer, antelope, and mountain lions have wandered this ranch. I was able to get wonderful interviews and photo items significant to Hank Boedeker's story. But this story is more than one man—it is a story of how the West changed. Not surprisingly, Hank knew Owen Wister, who wrote the Virginian, likely discussing trails with him. Characters and events in the book are loosely based on people and events around Lander and Dubois.
Wister revisited the Wind River Valley and mountains many times and intuitively knew that the raw country would not be able to stay the same once the rest of the world discovered it. Yet he was part of that change with his journals, stories, and Frederick Remington's illustrations of his western travels.
On my final elevator ride downstairs in my hotel this morning, a tall Asian jumped in, decked out in mountain gear. He turned to me, smiled, and in accented words, asked, "Are you heading to Yellowstone today too?" The dude was born, and the western Rockies have never been the same.
"Some day, no doubt, when civilization crawls here, this poor creek with its canyon and natural bridges will echo with the howling of the summer mob, who will have easy paths made for them, and staircases, and elevators perhaps too. There will be signposts directing you to Minerva terrace, Calypso Garden, Siren Grotto, for every unfortunate ledge and point will be saddled with a baleful name rotten with inappropriateness."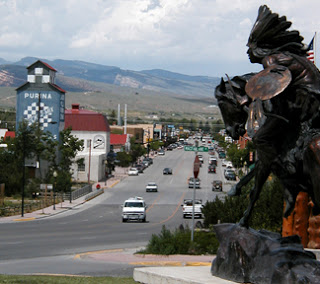 Owen Wister, Warm Springs Canyon, Wyoming