It was her dimples that first drew my attention to the Miss America pageant. A more-than-passable piano player with wholesome beauty, Phyllis George could have been anyone's big sister or babysitter. I watched the pageant every September along with my parents. Before Phyllis, we knew almost nothing about the contestants parading in pale rainbows of chiffon gowns in front of the camera. Only where they were from and how they looked. We waited for emcee Bob Barker to call out our Miss Texas and hoped that she appeared as exotic and glamorous as Miss New York or as golden-skinned and blonde as Miss California.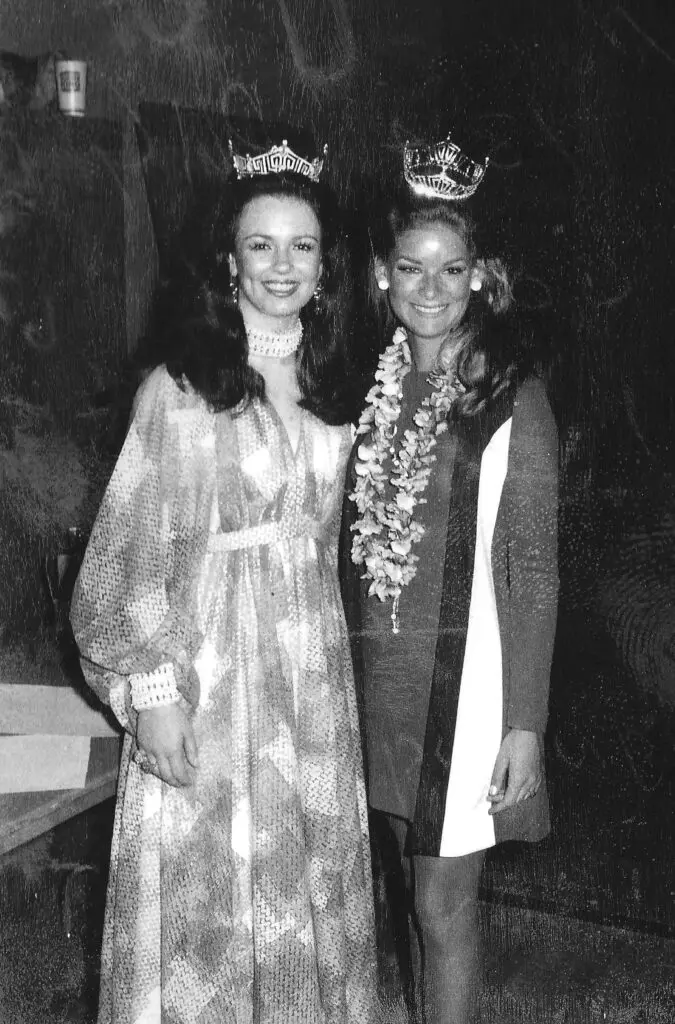 Miss America 1971 Phyllis George (left) with Miss El Paso 1971 Janie Little (Botkin)
Usually, we were not disappointed, and having our state in the mix made a family competition that much more fun. Together, we dissected swimsuit competition, evening gowns, and interviews. The real entertainment was the talent segment, counting for most of the judges' scoring. Watching Miss America was akin to watching a variety show, much like Andy Williams, Ed Sullivan, or Carol Burnett. When Phyllis George won the Miss Texas pageant in 1970, watching the Miss America pageant became a more intimate experience. We felt like we knew Phyllis.
In spring 1971, a poster appeared on my college campus. "WANTED! You Could Be Miss America!" the words proclaimed in black and white above and below the beaming face of Phyllis George, Miss America 1971. She was then America's girl-next-door, her dark, glossy lips in a dimpled smile revealing perfect white teeth. This poster drew me into the Miss America pageant franchise. Later Phyllis and I became friends, not intimate, but close enough that she knew my personal difficulties and quizzed me about my happiness. When I look back to my personal history with Phyllis, I realize she is the only other woman with whom my husband ever agreed to dance. How could he turn down Miss America? Yes, she had asked him.
Phyllis George's reign amid turmoil
Phyllis's reign, often amid American turmoil, seems extraordinary, though in retrospect, other Miss Americas surely dealt with unusual world events during their title years. Beginning with women's liberation movement protestors in front of Atlantic City's Miss America pageant venue in September 1970, the country appeared upended. The Viet Nam war; college unrest; prison revolts; Weatherman bombings; Cold War; and space race framed her whirlwind year. Phyllis even traveled to Viet Nam, part of a 22-day USO tour. Alongside comedian Bob Hope and other beauty queens, she helped entertain troops.
Often, Phyllis performed her piano piece, "Raindrops Keep Falling on My Head," from the popular Butch Cassidy and Sundance Kid movie. She would stumble over the keys, frown, restart the piece, frown again, and then look at the audience, smile those amazing dimples, and charge into the music perfectly. She was an entertainer at heart.
Resistance from an all-male cast of characters
As if in tune with the revolution around her, Phyllis cracked the glass ceiling in the sports entertainment world. After a short stint co-hosting Candid Camera on television, CBS Sports hired her as a human-interest reporter and commentator, her most prominent gig on "The NFL Today." Immediately, Phyllis faced resistance from an all-male cast of characters.
On the weekly pregame football show, featuring co-hosts Brent Musburger, Irvin Cross, and Jimmy "the Greek" Snyder, Phyllis received criticism. What in the hell did she know about sports? Phyllis responded that she knew "enough"! Her answer, "I'm from Texas and down there you follow the Texas Longhorns and the Dallas Cowboys, or you don't belong." She told People Magazine, "When I pick up the morning paper, the sports pages come first, and the fashion pages come last."
Despite Jimmy the Greek's relentless criticism of her, Phyllis became famous for her interviews with athletes. Still, during commercial breaks, while putting up with sexist remarks, she bravely offered ideas for the show. Phyllis remained with The NFL Today show until 1978, when her first marriage to movie Hollywood producer Robert Evans fell apart. They had only been married one year. Another beauty queen, Miss USA "top ten" finalist and stunning African American Jayne Kennedy took her place.
It's all about the Texas do-over (El Paso do-over in my case), as readers will find in The Pink Dress, Memoir of a Reluctant Beauty Queen. Phyllis got hers in 1979 when she married again. This time to John Brown, who was elected governor of Kentucky the same year. Phyllis had a new role to play as first lady of the state for the next four years. She also returned to "The NFL Today" in 1980, staying until 1984.
Winning the Miss America 1971 title "was the springboard to everything I've done in my life."
Phyllis never stopped expanding her experiences. After anchoring "The CBS Morning News" where she endured more criticism about her lack of journalistic background, she raised two children; acted in small movie roles; and hosted a talk show on the Nashville Network. She wrote five books, including one about diets (I can relate!) and one with an intriguing title, Never Say Never. She began two businesses, Chicken by George, which she later sold to Hormel, and a cosmetic and skin-care line, Phyllis George Beauty. Phyllis told a reporter from Texas Monthly in 2007 that winning the Miss America 1971 title "was the springboard to everything I've done in my life."
It took me decades to realize that when Phyllis performed her Miss America pageant piano piece, "Raindrops Keep Falling on My Head," she had a shtick—the deliberate errant notes. To cover for any accidental mistakes she might make, she had learned to make a joke out of any difficulty and proceed on as if nothing had happened. Everyone would think the mistake was part of her act. In much the same way, Phyllis had lived her life with the same attitude.
Her legacy
Phyllis George's death of polycythemia vera in 2020 shocked the world. She had been diagnosed with the rare blood cancer when she was only thirty-five (1985) and kept the diagnosis a secret. All the while, Phyllis had showed the world that women could break the 1970s-1980s male bastion in sports entertainment. Soon after, increasing numbers of women gained wide respect at various networks. Her legacy? Phyllis George, facing private tragedy with a dimpled public smile and spirit, had led others to follow her path.