On a flight to Las Vegas, Nevada, my destination before heading to Bullhead, Arizona, and an interview with Jane Street's grandson. I have waited all year for this opportunity. The trip is certainly refreshing after watching the drama this week regarding the Judge Brett Kavanaugh hearings. I wept during testimonies—for both individuals. I, like most everyone else, felt drained and saddened.
Have you noticed all the women who have "come out" to claim "me too"? Fact is, if you ask women close to my age if they have had some sort of real or perceived sexual harassment, assault or attack, many, if not most, will say yes. And with good reason. Perhaps this is because women have become increasingly empowered since my generation, the "burning-bra" era, as society finally confirmed that certain behaviors were not okay. Change has been slow, but change has happened.
I, like many women, have experiential responses when I hear stories of sexual assault. I recall sexual harassment on the job where I worked as a receptionist (except when I was expected to serve my boss his coffee twice-a-day). I endured sexual innuendos, wolf whistles (wait, I admit I miss those), and embarrassing confrontations. When I finally complained about a particular sexual advance to the aggressor himself, I was "let go" two weeks before I was already scheduled to quit.
I was also a GuyRex product, a beauty queen, a Miss Texas contestant, who modeled her body in swimsuit several times. Although I don't recall shame, I do recall a stupid interview question about whom I would most desire to date, from a grinning Dallas-Cowboy-quarterback panel member, expecting to hear his name. I was ashamed to have been thus questioned when I could cite every fact about the city I was representing. True, I put myself in that situation. The Miss Texas/Miss Universe was admittedly a "meat" contest, unlike the Miss America-Miss Texas contest that paid for my college education. (Piano, everyone. I know you just wondered.)
Sixty years ago, I was sexually abused, and I can remember everything. The summer smells of cut-grass, the way our weeping willow looked with its fronds cut like my 1950s' bangs. I remember his plaid shirt, my brother's shouts, my parents' response, or actually lack of appropriate response. Yes, like so many women my age, I am a Me-too-er.
But I am no victim or survivor–two terms I absolutely abhor. I am a winner.
I am also a proud mother of sons and a wife to a wonderful, loving man. Yet, I fear for them. My sons are white and will grow up, God willing, to become old white men. This is not cut and dry like some want to make the issue—that men need to "shut up," are predators, cannot be trusted, and their alleged victims too afraid to speak out. Good mothers raise wonderful sons to be good friends to women. Good fathers teach their boys to love and respect women. And, this grandmother will make certain her granddaughter will be strong and never fear speaking out. No wonder I was so drained after watching historical, high drama yesterday. I hurt for both of them and their families.
While listening to the hearing, I was also working on Jane Street and the Housemaid Rebellion: Sex, Syndicalism, and Denver's Capitol Hill. I rediscovered a letter that Jane wrote to a Mrs. Elmer Bruse in 1917, explaining how she organized the maids. Embedded within the letter Jane confirms being sexually assaulted by men who opposed her organization. (I have other evidence to this fact as well.) She also describes how the house that she rented for maids, who were between jobs and without income, was labeled a prostitution house by local employment agencies who wanted to discredit her maids. Domestics came to her to find work, only to be solicited at the curb. Not only did these agencies publicize that her "club house" was a house of ill-repute, but they tried to pimp helpless, needy girls. Both actions, assaults and sexual solicitations, were acts of aggression, meant to change Jane's behavior.
What stuck out to me, as the hearing's senators were trying to decipher a high-school boy's yearbook braggadocio, was that Jane was not screaming out "Me, too!" She appeared to expect this type of behavior, a form of sabotage. Sad. She warned Mrs. Bruse that "sex can come rushing into your office like a great hurricane and blow all the papers of industrialism out the windows." Jane patiently explains and accepts that there will be workplace sexual harassment, and perhaps even assault. No woman in 1917 would dream of saying "not me, too."
Today is different, thank God. In fact, women "have come a long way, baby." (For my younger female readers, this was part of a cigarette-ad campaign.) Yes, I am Woman (can't help myself, everyone)! I am not a survivor, but a winner.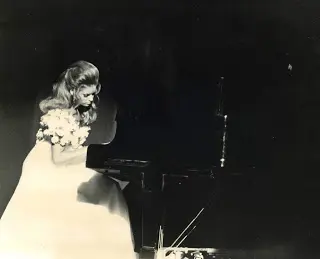 And like this Jane, Jane Street never portrays herself as a victim, but one who continued to work aggressively to make a difference.