A famous quote best describes the written lore of Lawman Hank Boedeker: "When confronted with the truth or the legend, print the legend." Though not much is in print about Henry E. Boedeker, during the 1950s, campfire stories embellished tales of well-known past residents including Marshal Boedeker to impress visiting dudes at ranches across western Wyoming. Most specifically, he was reported to be more than an associate of Butch Cassidy's, whose own history is so thick with folklore, it takes a machete to cut through to the truth.​ Boedeker did escort an unmanacled Cassidy to Laramie's federal penitentiary. The exception to Hank Boedeker's own apocrypha is a common narrative regarding a poster that the Winchester Repeating Arms Company distributed nationally in 1904, after its original presentation at the St. Louis World's Fair. That, and Hank Boedeker is my grandsons' third great-grandfather.
A few months ago, I needed to distract myself from thoughts about my mother's terminal illness and all the stuff that comes along with the impending death of a loved one–in short, an abandon from autopiloting for the next day. As in the past, I found comfort lurking online with Ancestry.com where I could wrap myself around others' internet lives and the circumstances of their deaths with detached interest. As expected, worries about phone calls, groceries, and doctor appointments soon melted away, along with my reality. To augment the routine joys and tragedies of their digital lifetimes, I searched for all the "hints" Ancestry had posted on various family members in my tree, adding and updating pertinent information to various individuals' "fact" pages. A mindless, analytical activity, at least for me. And then I shifted to Sarah's family tree.
Sarah is my daughter-in-law, and like me, she was struggling with her mother's imminent death. I was instantly ashamed of my pity-party. Sarah's mom began her death-dance almost thirty years ago when she was diagnosed with Huntington's Disease, or HD, at about the age of twenty. Most of Sarah's childhood and adult life has revolved around her mother's decline. Like me, she has detached herself as best she can from some realities, looking for daily joys in my two challenging grandsons. Sarah laughs at them.
Her detachment from her Boedeker ancestry (pronounced "bed-e-ker") was primarily because the disease was introduced when her great-grandfather "Bump" Boedeker fell in love and married an immigrant girl from a Polish ghetto known for the disorder. It was not until 1993 that the HD heredity gene was identified. In mid-century Dubois, Wyoming, the Boedeker family had become alarmed and ashamed of the disease's manifestation in family members, no doubt not understanding that they were procreating the disease's reoccurrence through their progeny. In fact, as I looked at Sarah's family tree, I was reminded that she had told me Bump became aimless after his wife Mary had to be institutionalized. He must have felt lost and confused, perhaps even condemned.
My interest began to peak as I filled in family-member facts on Sarah's Ancestry tree. Then I switched to browsing the internet.
I searched Bump Boedeker, real name John Franklin Boedeker. The first hit was a blog written by Don M. Ricks called "Wyoming History Written in the First Person." Ricks self-identified as both a historian and storyteller who grew up knowing the pioneers from the 1800s in Dubois, Wyoming. Specifically, he claimed to have known the Boedeker family. I became fully engaged, my misery evaporating, when I found a blog entry titled "Fecundity vs. Ancestry.com: The Boedecker Story" (July 10, 2016). Fecundity was not a word I have ever used: defined, it means "fertility or the production of new ideas." Every idea would be new to me regarding the Boedekers.
Ricks believed a new street in 1950 was named Boedeker Street after Bump. Apparently Bump hauled the mail and freight from Riverton to Dubois five days a week for years. He drove for the Barnes Truck Company, and Ricks' grandfather was Cordon Barnes' partner. This did not sound like the story I heard. A street would not have been named after a freighter. Ricks' mother lived with a fellow named Little Mike, a bartender, who likely would have known about Bump. Ricks had elaborated that Dubois was a two-bartender town, where Little Mike worked at the Rams Horn and a Big Mike tended bar at the Branding Iron.
Ricks even went to school with two of Bump's daughters, Nancy and Barbara, and he had had a crush on the latter. I immediately went to my Ancestry tree and made certain this information matched. It did. So far, so good.
Ricks told of living in one of Mrs. Boedekers' white tourist cabins and boarding at her table for several months. I wondered, which Mrs. Boedeker? He appeared to have an intimate relationship with this family, closer than even its grandchildren and great-grandchildren.The blog continued. Boedeker Street was not named after Bump Boedeker after all. The street was named after Hank Boedeker as was Boedeker Butte on the T-Cross Ranch. This must be the new idea, the fecundity part of the blog's title, I surmised. I recalled that Sarah had, indeed, told me about a Boedeker ancestor who was a hunter, maybe even a trapper, and who owned a large property that had a mountain on it called Boedeker Mountain. He lost the property because he couldn't pay the taxes or something like that. Perhaps a bereaved Bump Boedeker had lost interest.
Sarah told how this Boedeker left a photograph on the wall of the old cabin depicting him and his rifle with a mountain sheep he had killed. When the new owners, the Winchester family of firearms fame, saw the photo, they immediately turned it into a hunting poster, and Bump/Hank's likeness became famous. Turns out the gun in the photo was a Winchester rifle. Where could I can get that poster? I once asked Sarah. She could only recall that her family had misplaced it long ago. When disease consumes a family like HD has done to this branch of the Boedekers, family heirlooms become trivial and irrelevant, and associated family stories bring pain and are best forgotten. My heart broke for the family who had lost touch with a beautiful western heritage.
Ricks continued his story, telling how Hank Boedeker arrived in Wyoming via Illinois and Nebraska in 1883, eventually settling in the Dubois area. As a family genealogist and new historian, I knew I would have to prove these revelations. I began by creating a timeline on Hank noting the source of each new fact and possible fiction. Next Ricks wrote, "Hank was a larger than life Wild West hero." My heart began pounding. "As a lawman his historical apocrypha are enhanced because he shared the Wind River country with Butch Cassidy in the early 1890s."
Here was a story, perhaps fiction, but if actually true, then perhaps I could redeem the Boedeker name for my daughter-in-law, even leave a legacy for my grandsons to be proud of. I was now hooked on the Boedeker family, and thoughts of what I needed to be doing for my mother's care were not all-consuming. I needed this story.​​​
I quickly scanned the rest of Don M. Ricks' blog on the Dubois, Wyoming, Boedekers. He provided titillating information, such as Hank was Lander, Wyoming's town marshal. As such, he escorted Butch Cassidy to Fort Laramie to serve a prison sentence for stealing thirteen horses near Meteetsee. In another Ricks' story, Hank Boedeker disarmed Butch Cassidy and his gang when they rode into town. These anecdotes would need sound investigation, research that I determined I would do. Would I find enough to warrant a book?
Ricks lamented that much of the information on Hank Boedeker was both true and suspect, dependent on "old first-person reminiscences who knew him and casually collected information full of misremembered details, melded events, and enhanced narratives." Just the type of information I sought when investigating history! These anecdotes, full of faulty information, always have a seed of truth. Their telling brings color to the subject and gives way to begin honest research. The difference between Mr. Ricks and me, I surmised, is that I know how to ferret out the facts once I have the stories. I am an excellent researcher.
The exception to Hank Boedeker's apocrypha is the common narrative regarding the poster that the Winchester Repeating Arms Company distributed nationally in 1904. Ricks even supplied a photo of the poster. There stands Hank Boedeker on the butte named in his honor, right hand firmly placed on his hip, in his left hand a Model 95 Winchester rifle with its butt and his left boot atop a "record" bighorn sheep. Hank Boedeker presents a formidable character, and, clearly, he and Bump Boedeker are not the same person.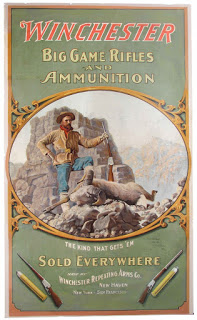 ​Then Ricks lost me. He next claimed that there were two unrelated Boedeker families in Dubois – Sarah's great-grandfather, the freighter Bump, and the other Boedeker, Hank the lawman. Two Boedeker lines with no ties in a small Wyoming town? Impossible. Ricks spent a lengthy paragraph discussing anachronistic suppositions, and even he falls victim to dismissing the facts before his nose. He supplied erroneous information: Bump was a German immigrant who came to America following WWI, birth in 1908 and death in 1996. No way he could be Hank Boedeker's son, Ricks asserts. Within this fog, Ricks still claimed to have known this family branch well.
I went back to my Ancestry tree. Our Bump Boedeker, my Sarah's great-grandfather, was born 1899, in Lander, Wyoming, confirmed by ten sources, including his WWII selective registration card. Ricks also did not get Bump's death correct. Ricks in his storytelling had unwittingly added incorrect information to the Boedeker story. Even more glaring was that Hank Boedeker, real name Henry Elmer Boedeker, was, indeed, Bump's father.
Most disturbing in the blog was mention of an STD, discussion offered up by other Boedeker progeny, supposedly transmitted by a philandering Bump Boedeker, the freighter who spent much time out-of-town. Fortunately, Ricks noted that Bump should have slept in his own bed every night with the Riverton-Dubois trip being a short haul– only eighty miles–and the salacious story illogical. Yet mention of the STD rumor bothered me. I knew it was a shadow-rumor of the genetically-transmitted disease, HD. Don Ricks and other Boedeker family members simply had no idea, Bump's children had not discussed their mother's illness, and some had not yet understood their own tragedies would unfold.
Don Ricks ended the blog with colorful memories of his Dubois childhood. Pictured were both Dubois bars, noting that Bump Boedeker delivered a new movie in Friday's freight for Sunday-night viewing at the Rustic Pine Tavern. The entire town attended regardless of what film he delivered. The other bar, the old Branding Iron, had once been owned by Ricks' great-grandfather. Built into a sandstone bluff in full view of Main Street, his cases of whiskey were safe from burglars. I could not wait to begin the real research about the Boedeker family. Despite some misinformation, gratitude swelled in my chest–someone had taken the time to record the Boedekers.